Access Technologies provides a wide range of automatic doors and peripheral devices for every conceivable application. Access Technologies delivers full and comprehensive know-how in the construction of automatic door systems and gates, all from the same provider. This ranges from the development and production of various mechanical and electronic components, the installation of entire door systems, to the full range of repair and maintenance services.
Get A Free Estimate
The Advantages Of Having An Automatic Door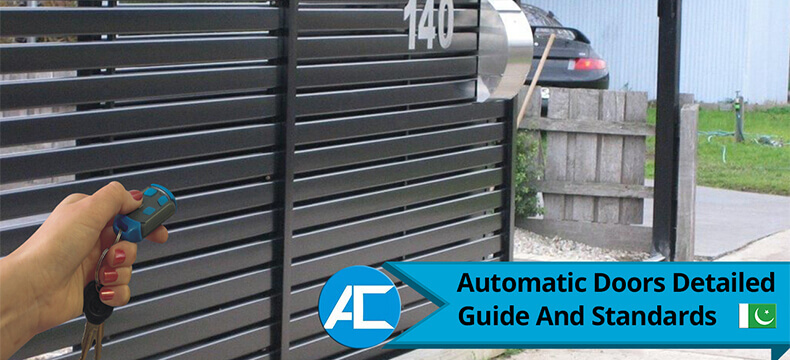 Automatic doors are used throughout industrial and commercial environments to enable easy access to a building, offering a wide range of benefits.
One of the main advantages of having an automatic door is the convenience that comes with it. An automatic door allows people to pass through a door with ease without the worry of manually opening a heavy door, meaning that your customers will feel welcomed from the moment they step foot on your premises. This can be highly effective at solving accessibility issues, as those with disabilities are able to enter the building with ease and without complication.
Another key benefit an automatic door can bring is its ability to save space, making it a perfect option for businesses operating in smaller locations. The choice of single sliding and telescopic sliding doors means that there are many options that can ensure you get the maximum use out of the available space you have.
Automatic doors can also assist in the management of security. Security personnel can easily control the doors remotely, meaning that they can grant access to selective traffic or deactivate the door completely if necessary.
Most automatic doors come with a locking system which gives the user more control, increasing security, and leaving you feeling much safer.
Our automatic doors are also manufactured to the highest standards for quality and safety, making them easy to own and maintain once installed by our fully qualified technicians.
From swing doors to sliding doors there is a huge range of styles and systems to choose from, meaning that there's a solution that can fit with your business' needs. From full operators to replacement sensors, we are able to provide bespoke solutions using the best quality products from the world's leading manufacturers.
How do Automatic Doors work?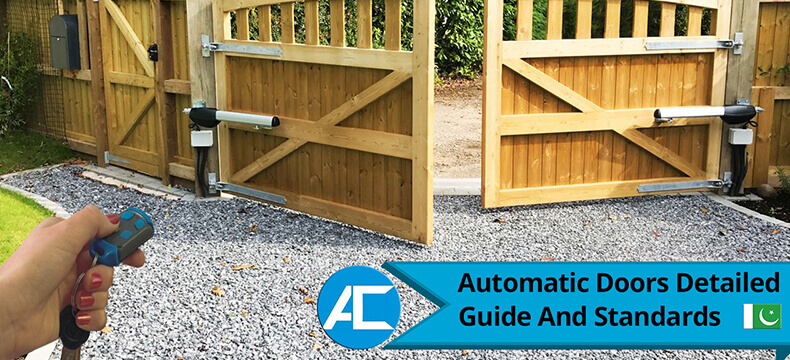 Automatic doors are a great convenience in everyday life. They ensure ease of passing through doors in shopping centers, medical centers, and train stations (to name just a few). All we have to do is walk up to the door and it magically opens for us. But how do automatic doors actually work?
Automatic doors operate by using a range of sensors that can detect different things such as sound, light, weight, and motion. There are many different types of these sensors and each one can lend itself better to a different environment.
For example, some doors use weight sensors to detect when someone stands on something disguised as a rubber mat in front of the door. Another popular method is motion sensors, these detect movement around the door in certain predefined areas and send a signal to the doors to tell them to open when this sensor is triggered.
After the sensor is set off, a message is passed on to an electronic drive train which is connected to the sensor and controls the actual opening and closing mechanism. This mechanism is attached to the automatic doors and uses a cogwheel which is connected by rubber belts to control the motion of the automatic door. These mechanisms work together with the sensors to ensure the doors respond to the sensors whenever someone wants to pass through the door.
Automatic Doors in Emergency Situations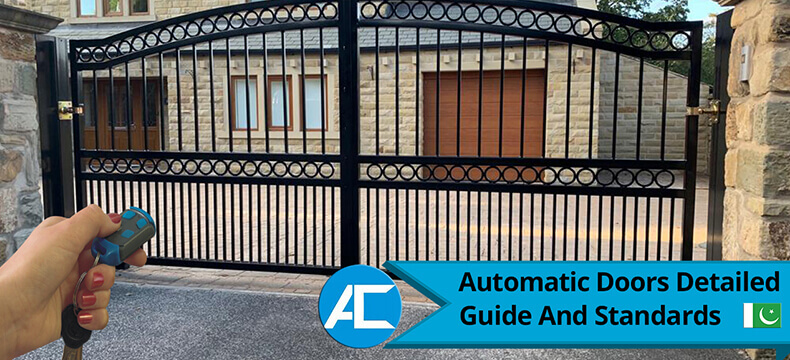 Automatic doors can be highly beneficial in emergency situations when it comes to evacuating a station safely and quickly. Acting as a fire exit door, the system can be integrated into a fire exit strategy to ensure that your business is safe at all times and can be easily evacuated while complying with fire door regulations.
The doors can be set to hold open, meaning that people can exit the building more efficiently without the need for the door to be opened and closed as people make their way out of the building.
In emergency situations, automatic doors can also be set to automatically close in when needed, preventing people from entering a building which may be a danger zone. This can be used to limit access to areas where a fire may have begun or to prevent a fire spreading. There is also the option to install fire-rated doors to further help protect your premises from fire damage and reduce the risk of injury to its inhabitants.
A 'breakaway' specification can also be fitted, which allows automatic doors to be pushed outwards manually to facilitate an emergency escape. This breakaway system creates a fail-safe, meaning the doors can be pushed open either way and will still operate even in the event of a power failure or systems linked to fire alarms.
Automatic doors are a great way to ensure a smooth exit from your building. With our expertise in the industry, our engineers can help to find the perfect door for you to ensure optimum safety in emergency situations.
Energy Consumption
Low energy settings are a cost-effective solution for your automatic doors. Low energy set doors do not operate on sensors, instead, the door must be triggered to open either by pushing it or using a push pad.
Low energy doors require fewer sensors, meaning the initial price of the door is lowered, but it is also a highly cost-effective solution that will save money in the long term.
The door will only open if someone actively tries to enter, the sensors won't open for people simply walking past the building, making them more efficient and environmentally friendly than fully automatic doors.
Low energy settings can often be added to pre-existing automatic doors which are currently fully automatic. Most operators can be set to low energy, meaning you do not need to splash out for new automation, instead you can just change your settings and start saving money straight away. As well as the financial benefits, low energy doors are typically less noisy when in use and are fully compliant to DDA requirements.
As well as the instant low energy benefits, automatic doors like this can also save money on your heating bills through a reduction in unnecessary heat loss, therefore steadily paying back the initial installation cost. This also has the benefit of reducing any air conditioning wastage that could be caused by fully automatic doors or keeping a manual door propped open.
Sliding Door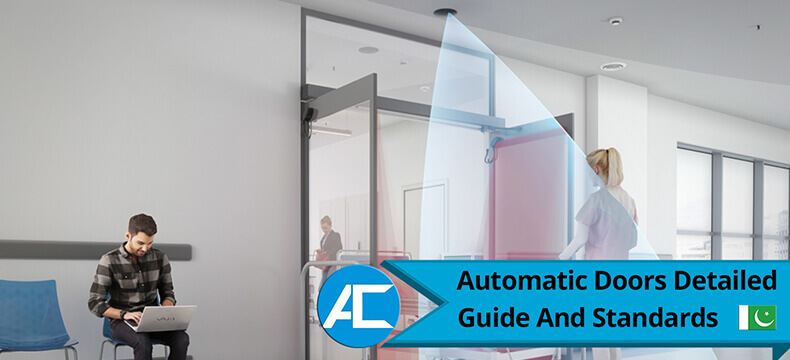 Automatic sliding doors provide effective two-way traffic. Sliding doors are equipped with a feature that allows the sliding door to swing when pushed out in emergencies. This feature, known as "breakout" or "breakaway", qualifies them to be used in locations that require emergency egress capability. Sliding doors are offered in various configurations, including traditional biparting, single slide, and telescoping models. These doors require an adequate amount of slide room in which the door can move. Sliding doors should always include appropriate sensors or control mats and safety signage.
Accessories:
Basic functions selector
Advanced functions selector with LCD display (password lock system)
Power battery system
Break-away doors system
Electric locking system
The tamper-proof key for night closing
Microwave radar
Passive and/or active infrared sensor
Single or double field safety photocell
Push-button
Brackets for toughened glass doors
Floor guides
The electronic key for access control
Advanced Functions Selector: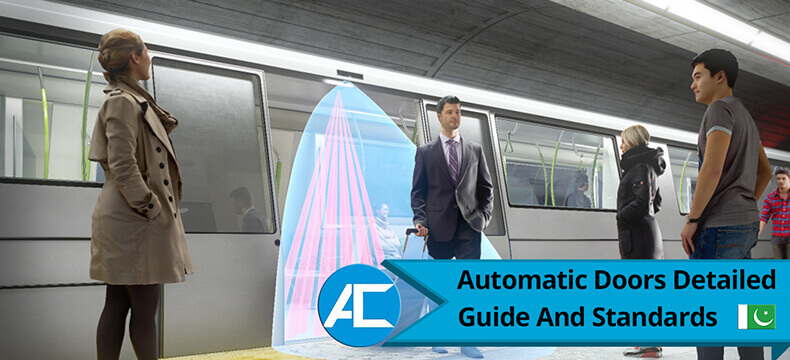 Control Panel Logics:
Stop Close.
Stop Open.
Entry-exit radar.
Only exit radar.
Partial opening with entry-exit radar.
Partial opening with only exit radar
Adjustments:
Opening speed.
Closing speed.
Wait time in an open position.
Partial opening.
Anti-crushing system
Functions:
Password access control.
Interblock system.
Multi-Master and/or Multi Slave function.
Service Assistance.
Electronic Input/output configuration .
Function battery choice.
Daily events scheduling.
Diagnostic.
Working data display (total number cycles, etc.)
Specifications
Electromechanical automation for straight sliding doors, complete with box and cover made of the aluminum extruded profile.
General Features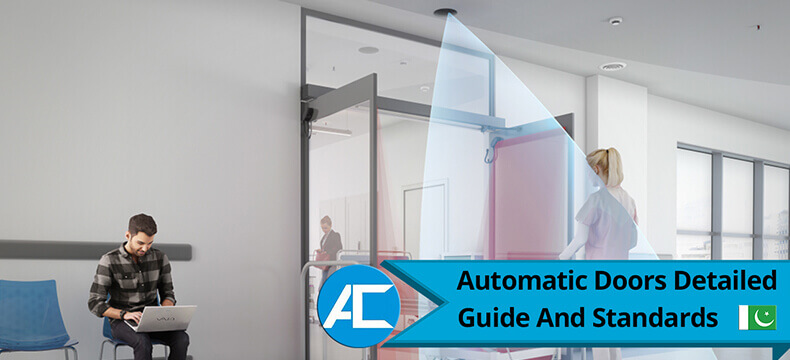 Possibility of automation for one single wing, up to 3000mm wide and with maximum allowable weight up to 120 Kg, or alternatively for two wings, each with a maximum width of 1500mm and maximum allowable weight up to 80 Kg. Maximum speed 70 cm/s for the single-wing version and 140 cm/s for the two wings version
•
Body size: 179 x 114
Rated supply voltage: 230V
Rated frequency: 50Hz
Rated power: 150W
Operating temperature: inside the automation from
0° to +50°
Weight of the automation: 8,5 Kg/m
Type of service: continuous
Special Features:
Interfaced with a computer for the remote control of the automation, this is really a product of the future. Simple to use this windows based program is free and a simple connection to your computer can control up to 15 doors at any one time.
Folding Doors (where slide or swing are not an option)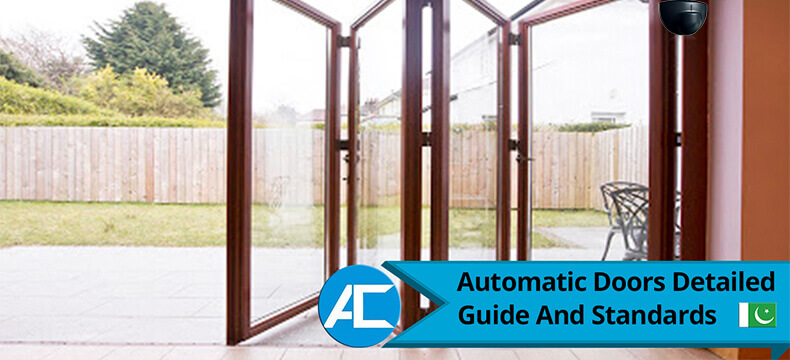 A folding door requires minimal space to install, yet provides plenty of clear door space. This makes this type of door a preferred choice when space is at a premium. These doors should have an emergency swing feature if the door is being used as an egress location.
Automatic folding doors have two or more separate panels. The first panel swings and the second panel slides in a guide, enabling it to slide as both panels swing into a "V" shape, which is the fold. Automatic folding doors may include either a single folding door that swings in or out or a pair of doors that simultaneously fold in or out.
Similar to swinging doors, folding doors should always include guide rails, sensors or control mats, and safety signage.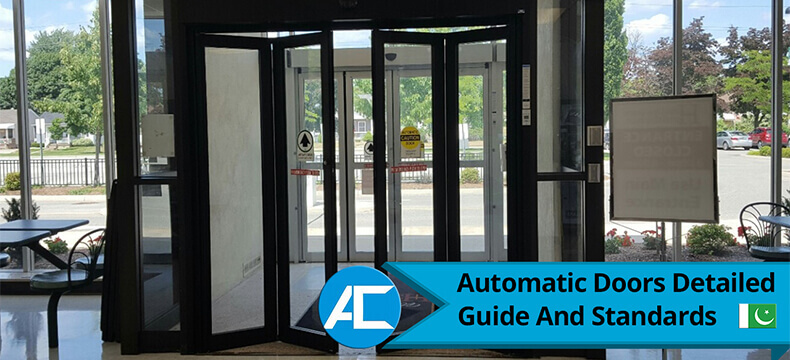 Get A Free Estimate
No matter the type of door, the automatic door system should be designed in such a way that traffic approaches the door in full view and users walk directly toward the door.
Pedestrians must have excellent visibility of the door and its markings and must be able to clearly observe the direction of door travel. Avoid positioning vending machines, waste containers, pay telephones or anything else that has the potential to distract users within four feet of the moving door.
The nature of the application is the most important factor in determining the type of automatic door that will be installed. Not all types of automatic doors are suitable for every application.
You must take into account the desired traffic flow, typical types of users, available space, and aesthetic requirements or preferences.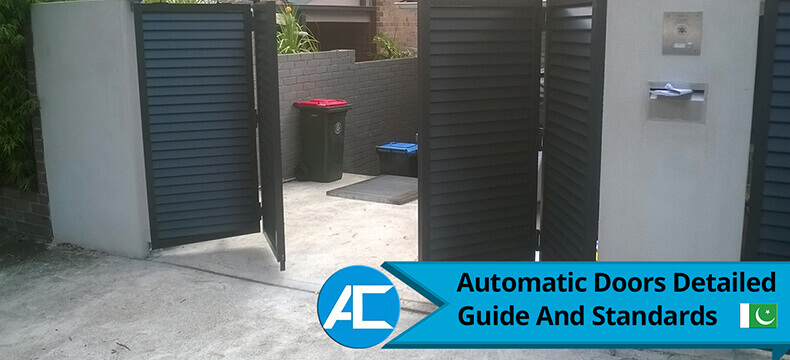 Technical data & operating conditions
Clear passage width 800 to 2000 mm
Clear passage height (recommended maximum height) 2500 mm
Door weights Maximum 4 x 37.5 kg max. 150 kg
Door movements
Door opening speed (maximum) 70 cm/sec
Door closing speed (maximum) 50 cm/sec
Door speed after meeting obstruction ca. 8 cm/sec
The static driving force of door leaf max. 150 N
Time delay 0 – 20 sec
Max. speed is limited by mass (weight) of the door (statutory regulation)
Electrical power supply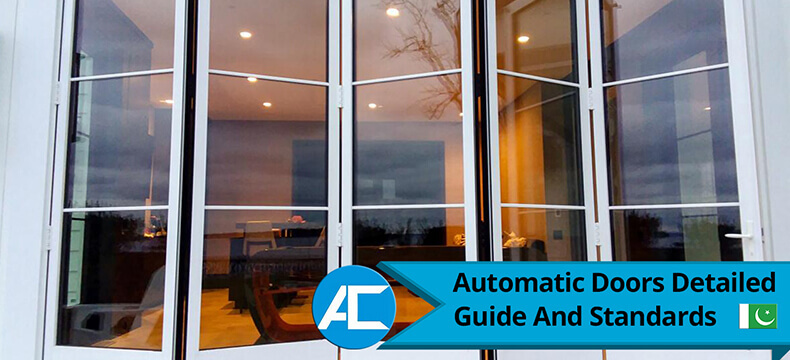 Mains voltage (NET 16 / 230 V) 230V / 50/60 Hz
Power consumption 100 W
Standby power consumption 14 W
Environmental conditions
Temperature range -15° to + 50°C
Humidity range up to 85% rel. humidity, non-thawing
Control Panel Logics
Hold open
Stop close
Automatic
One-way opening
Interlocking
Push-button
Automatic Swinging Doors: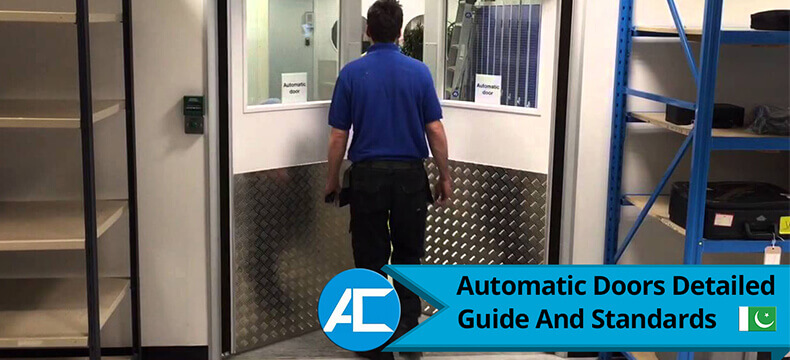 Typically, when a swinging door is automated, two doors are used. One door swings inward and the other door swings outward. This enables two-way traffic.
Two-way traffic through a single automatic swinging door is not normally recommended. The exception is a low-energy swing operator that has different characteristics than a fully automatic door. It is crucial that these types of doors are well marked to indicate the direction of travel.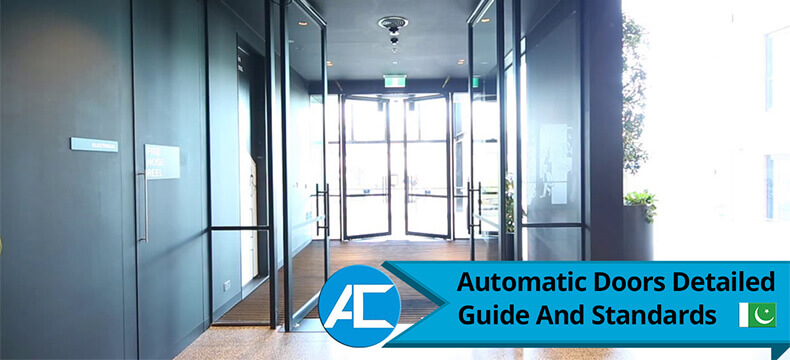 Safety zones for swinging doors are covered in Section 8.1.2 of ANSI A156.10. Different requirements are in place for different systems. Requirements depend on what combination of sensors and control mats is used.
There are two types of sensors for automatic swinging doors, overhead mount and door mount. Each has different characteristics and enables different pattern sizes and performance.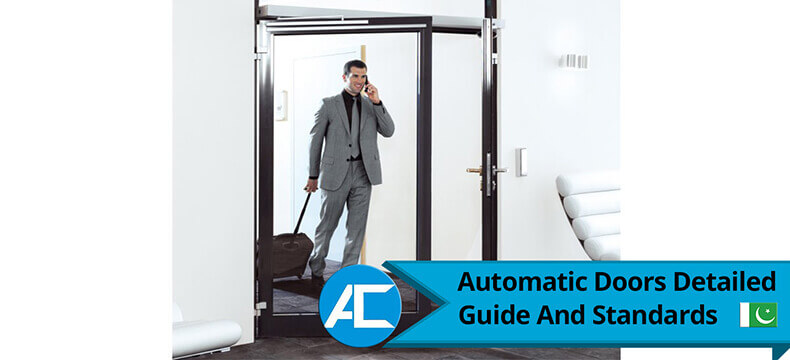 Swinging doors should always include guide rails, sensors or control mats, and safety signage.
About the Company
Access Technologies in Pakistan has been a leader in automation, security, and also access solutions since 2010. Everything we do is for you and we will prioritize what you need to do to get you on track. We sincerely thank our customers and strategic partners who have long-term business relationships with us. In addition, For more detail please contact us.
Get A Free Estimate