In this way it is possible to disinfect all surfaces, even those which are not directly expose to the nozzles.
Design and manufactured in Pakistan by Access Technologies, our disinfection tunnel solutions also offer a perfect all-purpose solution
hat is it use for?
The Disinfection Tunnel and the sanitary and decontamination doors represent secure protection and entry for all, in particular for those who work in close contact with groups and are therefore at greater risk.
It can be installed at the entrance of public offices, pharmacies, supermarkets, airports, hospitals, ports, stations. It is also suitable for all private companies that need to disinfect labor, goods, vehicles and materials.
How Disinfection Tunnel works?
The Disinfection Tunnel creates a compulsory passage and is equip with internal arc-shape atomizing nozzles which saturate the environment but prevent dispersions.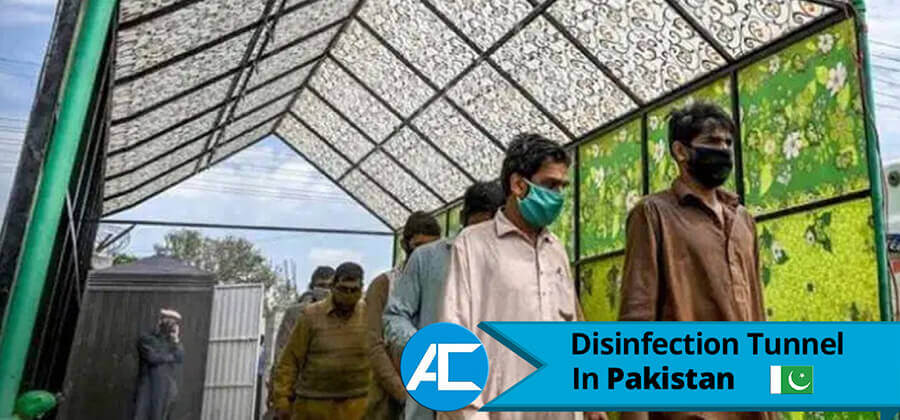 The nebulization system is connect to a control system capable of automatically mixing the disinfectant product at the percentages indicate by the manufacturer.
Access to the Sanitizing tunnel is regulate by a traffic light with motion detection. By placing a barrier floor inside the sanitary door, it is possible to disinfect the surface in contact with the floor.
Disinfection Tunnel Characteristics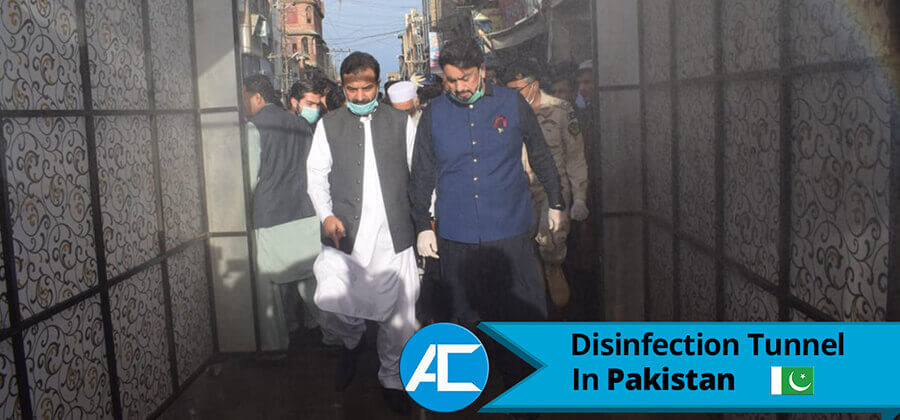 Disinfection tunnel quick assembly in a few hours to a few days.
Without foundation.
Also maintenance free for a reduced total lifetime investment.
Suitable for permanent or temporary installation
Easy installation, modification or relocation because the frame is modular and extendable.
Disinfection tunnel user and operator friendliness
Colored roofs and frames, transparent windows and covers, striking curtains (sliding or with central opening) and also writings are available.
Tunnels can be linked together or linked to existing structures or buildings (flashing and plates are available to facilitate a smooth connection).
Sustainable and profitable also.
Reduced height tunnels – roof systems only – single and double pitch wall models, fixed, curved and inclined modules, smaller or larger custom sizes are available on request.
Wheel options: pneumatic tires, nylon wheels (with and without anti-lift tracks) multi-directional pneumatic tires. Multi-directional nylon wheels, also robust wheels and much more.
Eyelets, stainless steel rails, safety straps, handles to remove the optional tunnel
Disinfection tunnel covers are made of simple panels, each one meter wide. Which are insert into the profile groove with a kinder strip on both sides.
About Company
Access Technologies in Pakistan has been a leader in automation, security and also access solutions since 2010. Everything we do is for you and we will prioritize what you need to do to get you on track. We sincerely thank our customers and strategic partners who have long-term business relationships with us. In addition, For more detail please contact us.