Automatic Door Lift In Pakistan recommended for elevators used in public buildings with heavy traffic. Although they require more space in the building compared to manual doors, it is advisable to opt for automatic doors. There is no need for an elevator operator. Door panels can be designed for everyone in the decor of the building.
The range of lifts available is from 4 people to 40 people. The speed of movement ranged from single speed of 0.7 m / s to a variable speed of 1.5 m / s. the door panels of the cabin walls can be in M.S. Powder coating or hairbrush in stainless steel finished. Glass doors can also be supplied, but they are expensive. Doors with central opening are generally recommended due to their ease of elegance. However, in places subject to size constraints, telescopic doors can also be supplied. in which the two doors open on one side.
Our elevators use programmable logic, controllers with automatic fault display, and detection capability. Modern equipment such as the speed of variability via ACVVVF drives, the automatic back-up device in the event of a power failure, load balancing.
Notes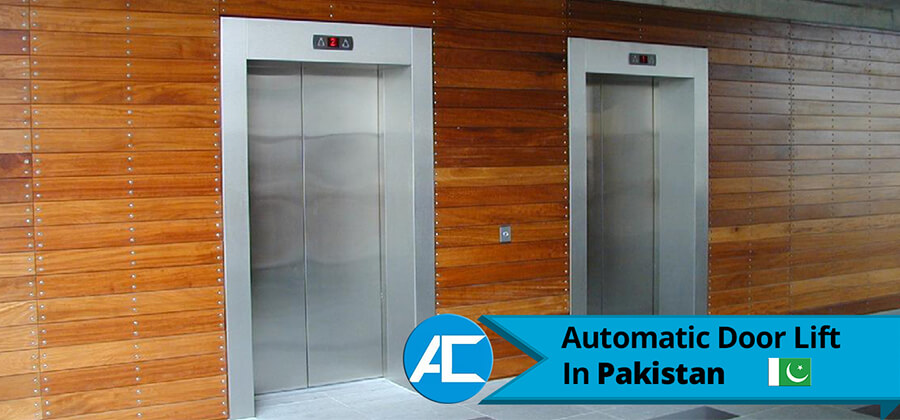 Height of engine room "M" – 2430 Depth of pit "P" – 1650
Overhead (F.F.L from the top floor to the bottom of the engine room) "O" – 4850
Any number of floors can be served. The side elevation only shows the upper floor and the lower floor for the respective height requirements.
The entire height of the door will be clear of 2000 mm
The pain for manual swing doors / folding doors / telescopic doors is different.
All sizes are inside finished dimensions in mm.
All lifting track walls are 230 mm thick brick or 150 mm RCC
Scope of Automatic Door Lift In Pakistan For Client
Entire civil structure for the elevator shaft, including plastic and interior elevator shaft paint.
Three-phase power supply
Scaffolding during left erection
Supply of threshold support, machine support, lifting beam hook, pit ladder, etc.
Grouting of our reservoirs, push-button boxes, door frame members, etc.
The engine room will be extended beyond the elevator shaft so that the machine is accessible from three sides for maintenance
About the Company
Access Technologies in Pakistan has been a leader in automation, security, and also access solutions since 2010. Everything we do is for you and we will prioritize what you need to do to get you on track. We sincerely thank our customers and strategic partners who have long-term business relationships with us. In addition, For more detail please contact us.